Cherhill Observatory
About the Cherhill Observatory
First things first...sorry about all the adverts...the price you pay (or don't) for free web hosting...
Anyway...
Cherhill, is a small village in Wiltshire, is a perfect location for amateur astronomy. With magnitude 6 skies, rolling unspoilt fields surrounding the village, and the world heritage sites of Avebury and Stonehenge located nearby, its astronomical heritage dates back to the times of Neolithic man, and is unrivalled in the UK.
My observatory comprises of a range of night time and solar telescopes, which are used whenever possible, to image and view the wonders of the heavens
My Equipment List:
Celestron C11 - F10 SCT
Orion ED80 - F5 Refractor
Skywatcher ST102 - F7.5 Refractor
Sywatcher ST80 - F5 Refractor (guidescope for the C11)
Coronado 80mm H-Alpha scope (self modified!)
Coronado PST CaK 40mm
Artemis ART285 CCD camera
Meade DSI Camera (guide cam for the C11)
SC1.5 Modified Toucam (guide cam for the ED80/ST102)
Primary Imaging Goals
My primary imaging interests include all of the solar system, including dwarf planets, asteroids and KBO's. The Sun in white light, Hydrogen Alpha and Calcium Potassium light, Deep sky objects using a wide range of filters, and supernova detection.
I have had many of my images published in UK astronomical publications such as Astronomy Now, and BBC SKy at Night Magazine, and am a regular contributor to the Wiltshire Astronomical Society Journal, acting also as a technical consultant for this popular astro society.
Some of my images
Messier 1
Messier 51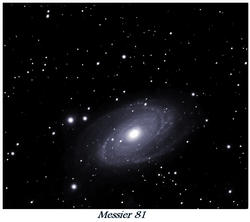 Messier 81
Image of M81 taken in March 2007 using an Orion ED80 telescope at F5, ART285 camera, combining 20x 3 minute subs using Maxim DL software. Post processing in Adobe Photoshop CS2 and Corel Paint Shop Pro
Links and great websites to visit
Some of my solar images